Rilke came relatively late to discover and admire intensely the work of Hölderlin, and set forth in a poem entitled An Hölderlin (To Hölderlin), written in 1914 when Rilke was 38 and first published in 1934, eight years after his death, his understanding of Hölderlin's imperative towards a wholeness of vision and his own quite opposite situation. The poem reads in part:
To linger, even at what is most familiar,
is not given to us; from fulfilled
images the mind plummets to ones waiting for sudden fulfilment; lakes
exist only in the eternal. Falling is here
what we achieve best. From the feeling we've mastered
to plunge down into that we anticipate, further.
But to you, you splendid one, to you, you conjurer, a whole life was given
to feel as an urgent image, when you spoke it out,
each line closed like destiny, death was
even in the gentlest, and you entered it; but
the god who preceded you led you out and above it (Rilke 2, 1996: 123).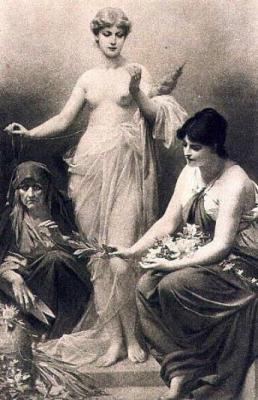 An die Parzen
Nur Einen Sommer gönt, ihr Gewaltigen!
Und einen Herbst zu reifem Gesange mir,
Daβ williger mein Herz, vom süβen
Spiele gesättiget, dann mir sterbe.
Die Seele, der im Leben ihr göttlich Recht
Nicht ward, sie ruht auch drunten im Orkus nicht;
Doch ist mir einst das Heilige, das am
Herzen mir liegt, das Gedicht, gelungen,
Willkomen dann, o Stille der Schattenwelt!
Zufrieden bin ich, wenn auch mein Saitenspiel
Mich nicht hinab geleitet; Einmal
Lebt ich, wie Götter, und mehr badrfs nicht.
A las parcas
Sólo un verano os pido, ¡oh Poderosas!
Y un otoño para madurar mi canto,
y así mi corazón dispuesto, del dulce
juego saciado, gustoso morirá.
El alma que en la vida de su divino derecho
no gozó, tampoco hallará reposo en el Orco;
pero una vez surgió de mi lo sagrado
que vive en mi corazón, la poesía,
Bienvenido pues, ¡oh silencio del mundo de las sombras!
Feliz estoy aunque mi lira
no me acompañe abajo; un día
viví como los dioses, y no necesito nada más.